Famous Cases:
The Magic Wanda
By the early 1970s, memories of the horrors of vampirism were fading, and in their place came a misguided admiration among young people for bloodsuckers. The older generation, who grew up with vampires and in many cases lost loved ones to them, tried to disabuse the younger generation of the notion that vampirism was alluring. But the warnings where drowned out in an unhealthy convergence of heavy metal music, black magic, and vampire cults. Some vampire enthusiasts went so far as to try and acquire stolen vampire blood. By the summer of '71, a single vial of blood was fetching $10,000 on the street. This prurient interest was to have devastating ramifications, such as the events in Los Angeles in December, 1971.

Report Number: 9336
Date: December, 1971
Location: Los Angeles, California

Background: Wanda Schiffler's journey to ignominy began in the leafy New York City suburb of Scarsdale. The rebellious Wanda never felt at home among the country club set, so in 1967, at the ripe age of 17, she ran away to Los Angeles and became a fixture in the burgeoning rock and roll scene.

Cedars, where
Magic Wanda
held court

She was, at various times, groupie, rock star girlfriend, drug addict and dealer. Eventually, the lovely Wanda settled down with Samir Sheeshia, a 65-year-old Lebanese immigrant who had made a fortune in the dry cleaning business before becoming a producer of B-movie schlock. Wanda set herself up at Cedars, Sheeshia's lavish Tudor mansion in the Hollywood Hills, and transformed it into a rock star hospitality house chock full of drugs, booze, and willing groupies. By 1970, Wanda Schiffler was known as "Magic Wanda" because, like a magician with a magic wand, she seemed capable of making any fantasy possible. Fledgling rock stars knew they had made it when they received an invite from her.

Like many heavy metal devotees, Wanda expressed a strong interest in vampirism, though her friends passed it off as a fad she would outgrow. However, late in 1971, those same friends noticed a change in Wanda. While never a morning lark, she stopped going out during the day completely, and when she emerged at night, it was underneath sunglasses and a thick layer of kabuki-like makeup.

Ian Allen of
Mr. Crowley

Meanwhile, far from the the sunshine and palm trees of L.A., Welshman Ian Allen was preparing for his first trip to America. Growing up in the grim Welsh capital of Cardiff, Ian taught himself guitar by playing along with scratchy Blues records by the likes of Muddy Waters and Robert Johnson. He also developed a fascination with the occult. At age 19, he moved to London and formed the band Mr. Crowley, named for the English black magic and occult writer Alistair Crowley. In 1971, Mr. Crowley became the first band signed to Led Zeppelin's new Swan Song label. The dark, menacing tracks of their self-titled first album, featuring Ian's gravelly voice and growling guitar, failed to sell in England, but found a loyal following among disaffected American suburban teenagers.

Late in 1971, Led Zeppelin manager Peter Grant sent Mr. Crowley to America to play smaller venues in an attempt to galvanize their fan base. The tour started with a week of shows at the Whiskey, the famous rock club on the Sunset Strip in Los Angeles. When those shows created a sensation, the band was held over for a second week. Local papers described Ian as "mesmerizing" and "a star of the future." A critic for L.A.'s Rock Paper wrote, "get down to the Whiskey now, because this may be your last chance to see Mr. Crowley in a smaller venue." From her mansion high above the Strip, Wanda Schiffler took notice.

Incident: On the night of December 11, 1971, Ian Allen looked past the hordes of groupies and sycophants in his dressing room and saw a statuesque, ghostly-pale woman in black standing by the door, smiling enigmatically. It's likely Ian Allen had heard of the Magic Wanda, but the sight of her knocked him for a loop. He quickly ejected the teenage girl sitting in his lap and went over to introduce himself. A short time later, the two fast friends left the Whiskey together, and when Ian didn't return to his bungalow at the Chateau Marmont the following day, a panicked Zeppelin manager Peter Grant went looking for him at Cedars. The butler who answered the door told Grant that Wanda was not home and that Ian had never been to the house. When the 300-pound ex-wrestler Grant bulled his way into the house, he was viciously beaten and driven off by what he described as "three amazons." After Ian failed to turn up for that night's show, foul play was suspected.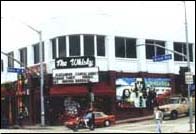 The Whiskey, site of
Ian and Wanda's meeting

Police were preparing an investigation when, out of the blue, Ian Allen showed up at the Whiskey, wearing sunglasses and looking ghastly. He claimed that he had been ill, but was vague with regard to his whereabouts over the past 24 hours. The band went out and ripped through a set, after which Ian left with Wanda Schiffler and several young women, including 15-year-old Cassie Burke. A day later, Burke's parents filed a Missing Persons report after she failed to return to her San Fernando Valley home.

Police wanted to question Ian and Wanda about Cassie Burke's disappearance, but the band had left L.A. for the Pacific Northwest and a week of shows in Seattle and Portland. Between gigs, Ian and Wanda would disappear and not be seen until the next night's show. Ian's band mates thought that Wanda had gotten him hooked on heroin.

The day after the band returned to L.A. for more shows at the Whiskey, drug dealer Colin Lamb was arrested in possession of dozens of vials of frozen vampire blood. The vials were part of a lot stolen from Washington D.C.'s Walter Reed Hospital the previous summer. As part of a plea bargain, Lambke gave FVZA officials the names of people to whom he had sold some of the stolen vials. Among those names was none other than Wanda Schiffler. The FVZA was called in.

Investigation: On the morning of December 21, the FVZA Los Angeles team set up a surveillance post at the guest house of a property adjacent to Cedars. Aside from visits by a pool cleaner and a landscape crew, the team observed no activity at the house during the day. That night, Ian Allen and Wanda Schiffler were observed leaving the house about 9:30 p.m. Accounts put them at the Whiskey for the next several hours, after which they returned with a caravan of cars in tow. The group, made up mostly of young women who had been at the show, adjourned to the back yard, where they were joined by several others from the house.

Once they had confirmed the presence of vampires with infrared scopes, the FVZA team surrounded the house and conducted an assault. The rescue was greatly complicated when one of the vampires released a pack of vicious dobermans. Nevertheless, the FVZA team managed to eliminate a dozen vampires in the back yard; the terrified young women who had followed Wanda and Ian home from the show were escorted to safety.

With the outside secure, the FVZA advance team conducted a sweep of the house, with disastrous results. The team was overwhelmed by attacks from all sides. Vampires emerged from hidden rooms beneath staircases, false bookcases and trap doors in the floor. Agent Frank Vallejo, a 15-year veteran, was killed; two other agents were bitten but managed to escape. The team was forced to withdraw.

As night turned to morning, the team, with the help of the L.A. Police Department, cordoned off the street to the mansion and set up a perimeter. Demolition of the house was considered and rejected in the event there were innocent people being help captive inside. The team, augmented by agents from San Diego and San Francisco, went inside and conducted a room-to-room sweep, encountering fierce resistance along the way. It was nightfall before the house was fully secured. Over 30 vampires were destroyed and 12 agents injured. Among the macabre items found in the house were a subterranean torture chamber and Samir Sheeshia's decapitated head.

Officials were unable to find the bodies of Wanda Schiffler and Ian Allen among the dead vampires. A thorough search of the area led to the discovery of a secret tunnel leading from the basement of the house to an exit spot opening up on the hills. An All Points Bulletin was issued for Ian and Wanda.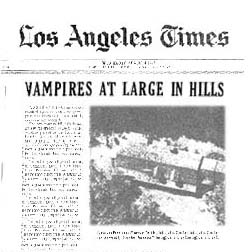 LA Times headline
December 23, 1971

Once the media picked up the story, much of L.A. flew into a panic. Movie stars left their posh estates as helicopters scoured the hills with spotlights. The search was made especially difficult by a driving rainstorm. Police were inundated with calls, and a drifter was shot to death by an armed guard behind one estate. One of the calls came from the caretaker of an estate who reported seeing a man and a woman breaking into the unoccupied main house at about 2:30 a.m. Two police officers went to check on the call and entered the house; when dispatch was unable to raise them on the radio, an FVZA team went to the house and surrounded it. At dawn, the FVZA was preparing to move in when smoke was observed seeping out of one of the front windows. The team entered the house and found two dead cops in the front hall and the still-smoldering bodies of Wanda Schiffler and Ian Allen in the study. They had apparently doused each other with brandy and set themselves on fire. All of L.A. breathed a sigh of relief.

Post Mortems: The toll from the battle at Cedars was considerable: 34 vampires destroyed, two police officers and one FVZA agent dead and 12 agents injured. Among the dead vampires were a number of young women who had apparently been lured to Cedars by ads in local trades seeking actresses for movie work. In addition, 12 people were treated for vampires bites in Seattle and Portland, where Mr. Crowley had played for one week.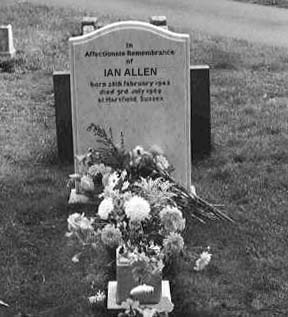 Ian Allen's grave
in Wales, England

Wanda Schiffler's journal, found in her bedroom at Cedars, offers a blow-by-blow account of her reign of terror. In a series of increasingly bizarre, rambling entries, Wanda wrote of her lifelong desire to become a vampire: "I've always felt that I was a vampire. I never liked the day. The sun hurts my head." She also describes procuring the vampire blood and the nervous moments before she first injected it into her veins. According to her journal, she killed her sugar daddy, Mr. Sheeshia, then went about assembling a sort of vampiric court made up of local rock and roll groupies. "These girls are invisible," she wrote. "No one will even notice them missing." But Wanda was a practical girl, and knew she needed a surefire way to recruit fresh blood. Ian Allen was the solution. In her last entry, Wanda wrote, "Ian and I have something that transcends love. Together, we will rule this city and we will never die." Like every other self-inflicted vampire, she was to find out what a foolish notion that was.

The years since Ian Allen's death have seen a growth in his popularity. In 1976, a local artist painted a large mural of him on the side of a building in Venice beach, where it remained for a number of years until community activists managed to have it removed. Ian's grave in England has become a pilgrimage site for both rock fans and vampire cultists, and Mr. Crowley's debut album ended up spending over 100 weeks on the charts.




Comments from Dr. Pecos: While the case files are full of stories of male vampires using females to lure victims, this is one of the few cases where the tables were turned. As a result, L.A. was for one long night paralyzed with fear, and a town that had churned out so many phony vampires found out the real thing was a whole lot scarier.
---
© 2001-2013 Dango Productions, Inc.