You live long enough, you see it all, as this story from Dana Thiede of KARE 11 News in Minnesota shows.
Vampire Runs for Governor of Minnesota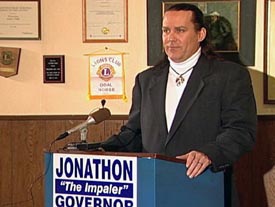 Self-styled vampire candidate
Jonathon Sharkey

Minnesota has a reputation for electing unusual candidates, and it appears the 2006 governor's race will offer another chance.

Forty-one-year-old Jonathon 'The Impaler' Sharkey entered the race on Friday, making his announcement in the back room of a cafe in Princeton. His resume cites experience as a soldier, professional wrestler and boxer, and most recently as a vampyre, and satanic dark priest.

In fact, Sharkey is running under the banner of the Vampyres, Witches, and Pagans party, an organization he himself founded.

While his claims might stir up some fear, the candidate says those who share his religious beliefs are misunderstood. "The common misconception is one, that they're 100 percent evil, that they do not have any caring in them, that they kind of prowl the night seeking their meals, and that's not true", Sharkey said.

When asked by a reporter, "Is it true you drink blood?" The candidate replied "Yes, I do." He claims that he partakes only in the blood of his pagan wife Julie, and that others are not targets.

Sharkey insists he wants to be taken seriously, and offers up a 13-point platform that details his stance on everything from tax relief for farmers, to education, and drugs.

If you love wikis, the web

has millions of

reliable

wikis

. These downloadable programs are an easy way to further develop

your web page

. Additionally a

wiki

may be about anything so add one to your site!

The biggest eye opener, and the one that challenges his credibility, is the candidate's plan to deal with violent criminals. The self professed vampyre says instead of imprisoning murderers, rapists, and other dangerous offenders, he would impale them on the capitol lawn, as his vampyre hero Vlad the Impaler did in old Romania. "Vlad used a three to four inch round wooden stake, about 10 feet long with a point," Sharkey says. "I feel any terrorist, or any criminal who violates the rights of an innocent person gives up their rights under the constitution for protection."

The long-shot prospect of a vampyre governor doesn't seem to faze people in his adopted home town of Princeton. "I don't know who he is", admitted one lunch customer at the K-Bob Cafe.

Another objected to Sharkey's satanic stance, and his voiced opposition of the Christian God. "Sure, there's gonna be some people who vote for him, but I just hope and pray those good folks who are out there taking their vote seriously would look at candidates of 'any' of the other sides, that they know are gonna uplift their neighbors", opined Wayne Eller, the director of the local chapter of Habitat for Humanity.

Others dismissed the candidacy as a publicity stunt, or a harmless diversion. "Do you think Minnesota is ready for a governor who is a vampire?" a reporter asked Jane Northfield. "It depends on what his views are," she replied with a hearty laugh.
---