Simonetta and Giuliano

Simonetta and Giuliano
served as models for
Botticelli's Mars and Venus

Simonetta Vespucci was said to be the most beautiful woman in all of Renaissance Florence. Born in 1453, the niece of explorer Amerigo Vespucci seemed to cast a spell on the leading men of Florentine society. After meeting her, the great artist Botticelli painted no one else for the rest of his life (she served as a model for all of his Madonnas and Venuses). Brothers Lorenzo and Giuliano de Medici of the Florentine ruling family fell in love with her and tried to outdo each other in displays of affection. The more practical Lorenzo, occupied with affairs of state, eventually lost Simonetta to his more romantic brother. In celebration, Giuliano held a jousting tournament and dedicated it to his 23-year-old fiance.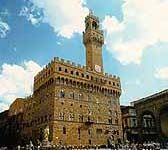 Simonetta jumped to
her death from the tower
of the Palazzo Vecchio

Shortly thereafter, Simonetta became sick with consumption (tuberculosis) and the prognosis was grim. A distraught Giuliano, unwilling to lose his beloved, decided that keeping Simonetta alive as a vampire was better than letting her die. He summoned Dominic Salcedo, the city's foremost vampire hunter, and gave him a top secret mission: capture a vampire and bring it back to the palace. Salcedo, unwilling to disobey one of the city's most powerful men, complied and, the following night, an unfortunate vampire was brought to the room in the palace where Simonetta lay dying. The vampire bit her and was then destroyed. Within two days, Simonetta herself had turned.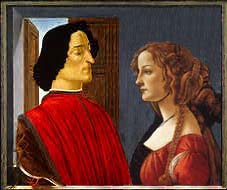 Giuliano and Simonetta
in the Botticelli portrait
done after their deaths

Though Giuliano must have been shocked when he first saw Simonetta, with her black eyes and ghastly color, he was pleased to discover that she recognized him and remembered their life together. Like many a hopeless romantic, Giuliano mistakenly decided that the love Simonetta had for him would trump any bloodlust she felt. And so when she beckoned him with kind words, he eagerly went to her, and was bitten. That night, Lorenzo de Medici discovered his brother in the throes of transformation, with telltale wounds on his neck. For a second time, Dominic Salcedo was summoned. Salcedo and his team searched the enormous palace for Simonetta, eventually finding her in the bell tower. Cornered, Simonetta jumped to her death on the plaza below; the same plaza where, only weeks earlier, hundreds had jousted in her honor. Per his request, Giuliano was buried at her feet.


A heartbroken Botticelli made one more painting of the ill-fated couple, using their death masks for models. In the picture, Giuliano faces the pale, shadowy Simonetta before an open window, a well-known symbol of death. The dove perched on the dead branch in the lower left of the painting is rich with symbolism. Doves mate for life and, according to Renaissance lore, will perch only on dead branches after their mates have died.



---
© 2001-2014 Dango Productions, Inc.