Valentine's Day She-vampire
From NBC51.com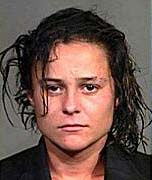 Tiffany Sutton

FORT WORTH, Texas -- An Arizona woman is under arrest, accused of tying up her lover on Valentine's Day in order to drink his blood.

Police in Tempe, Ariz., said 23-year-old Tiffany Sutton allegedly tricked her 43-year-old victim with an offer of kinky sex.

But, after tying him up, police said, she pulled out a knife and cut the man on the leg. She then told him she likes to drink blood and proceeded to drink from his leg, officials said.

Sutton allegedly also made several cuts to the victim's upper body.

The victim managed to break free from his restraints and run from the bedroom. The woman then chased him with a pickax, police said.

Officials said the man passed out a short time later and was found covered in blood by a friend. The unidentified friend also saw Sutton covered in only a blanket with no injuries.

The man was transported to an area hospital with non-life-threatening injuries. Sutton was booked into the Maricopa County Jail on suspicion of aggravated assault.
---
© 2001-2007 Dango Productions, Inc.