Big Changes at Santa Rosa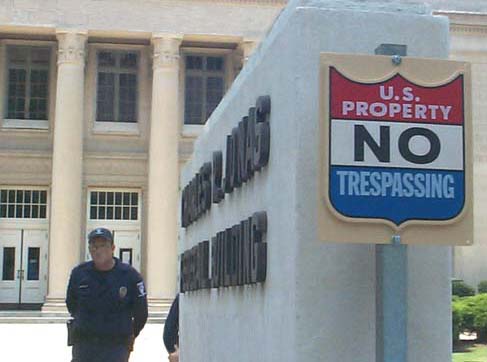 Armed federal agents stand guard
on the Santa Rosa campus.

The Santa Rosa Institute has quietly moved from its Albuquerque location to a new home near the Holloman Air Force base in southern New Mexico.

My sources tell me that the move signals a desire to speed up the research into vampire and zombie biology as far away from a large urban area as possible.

This is a good news/bad news scenario. The good news is that our protests and concerns appear to have had an impact. The bad news is that, in its new remote location, SRI leadership may feel less constrained. Perhaps they will become even more sloppy in their research.

The new location will be on land owned by the military between Las Cruces and Alamogordo (both in New Mexico).

The move also means a change in corporate structure and governance. In a nutshell, SRI is no longer an independent corporation and will be run by officials from the Department of Defense (!)

I spent many hours on the Albuquerque campus, both when it was an FVZA office and later as the headquarters of SRI. It's sad to think of that space being turned into condos or a shopping center or whatever else they might have planned.

Since the Institute took out a restraining order against me, it has been difficult to personally monitor their activities. But I still have some sources on the inside. I hope to have updates in the near future.
---