Florida Woman Says Skunk Ape Is Real
Linda Florea
Orlando Sentinel
Nov. 26, 2004 12:00 AM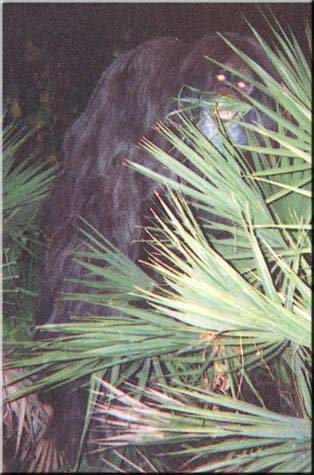 A photo of the so-called
skunk ape taken in Florida
in 2000.

LAKELAND, Fla. - Urban legends are supposed to be legends and that's all. But if you ask Jennifer Ward about the Florida skunk ape, she will tell you it stepped out of the mists of myth and into reality.

"I never thought anything like that was out there before," Ward, 30, said last week. "But I know there is now."

Ward's encounter with the hairy creature came in August, about a week after Hurricane Charley, along a rural stretch of road as she was driving home from a friend's house. Her daughters were asleep in the back seat, and it was approaching dusk.

"I noticed something in the ditch. I looked over, and I guess it noticed me. It rose up," she said explaining that the animal had been crouching when she first saw it.

"Its eyes went from serious. Maybe it was getting frogs. It was focused on something," she continued. "When he saw me, he was as surprised as I was. I slowed down to almost a stop"

Ward said the creature was 6 to 8 feet tall and covered with hair about 2 inches long.

At first, Ward told only friends and family about what she saw. She acknowledged that it took considerable time for her to go public.

Skunk ape sightings have been reported for more than 200 years, said Scott Marlowe of the Pangea Institute in Winter Haven and instructor of an upcoming college course on cryptozoology, the study of hidden animals and the possibility of their existence.
---