I came across this news item in a recent Centers for Disease Control newsletter.
More Vampires Bats Found With HVV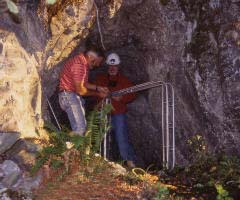 Texas CDC researchers set up a trap
outside a cave containing vampire bats

Field researchers for the Centers for Disease Control have detected an increase in the number of vampire bats carrying the Human Vampiric Virus, or HVV, in the southwestern United States. In April 2002 alone, researchers in Texas and New Mexico trapped 22 vampire bats infected with the virus, a figure almost ten times above the normal monthly average. "Usually, we're lucky if we find one bat with HVV," said CDC bat specialist J.R. McMullen. "This is the biggest one-month increase in sixteen years."

Since 1970, CDC researchers have been trapping and examining vampire bats to monitor levels of HVV. The virus causes vampirism in humans, although it is treatable with a vaccine. The range of the common vampire bat extends from the southern United States all the way down to Argentina and Chile.

While there is no evidence that any infected bats have passed the virus on to humans, CDC researchers are worried that such an event is inevitable given the numerous illegal immigrants passing through the area. If a person is bitten by an infected vampire bat, they must be vaccinated within 24 hours. "It's pretty isolated out here," said McMullen. "If someone were bitten, it would be hard for them to get to a hospital in time."
---
© 2002 Dango Productions, Inc.