(From the Albuquerque Journal, December 7, 2001)
30 Protestors Arrested at Santa Rosa Institute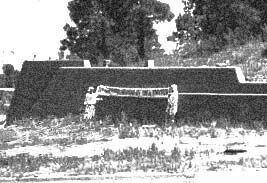 Two protestors unfurl a sign outside the
entrance to the Santa Rosa Institute.

Albuquerque police arrested 30 people yesterday afternoon during a sit-in protest at the Santa Rosa Institute, the controversial genetic research facility in Kirtland Heights. The protestors were arrested after they chained themselves to the entrance of the Institute's new Bluestone Building and had to be extricated by police using hydraulic cutters. The arrests were the latest in a series of incidents stemming from the Institute's decision to begin testing altered vampire DNA on animals. In September, an Institute lab was burned to the ground by the radical environmental movement Nature's Army.

Among those arrested in Thursday's protest was Dr. Hugo Pecos, former lead scientist at the Institute. Dr. Pecos resigned his post in June in protest over Institute policy. Upon his release Thursday evening, Dr. Pecos told reporters that he plans to continue leading protests against the Institute. "The more attention we can bring to this issue, the better," he said.

The protestors are due back in court for a hearing on January 15.

Dr. Edward Westhead, CEO of the Santa Rosa Institute, did not return calls seeking comment.
---