Latest News
Here's a few news items that might be of interest to you.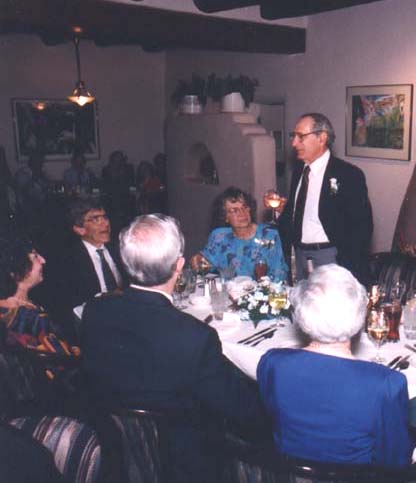 A toast to my fellow
FVZA alumni

February 16, 2002: Over 100 Federal Vampire and Zombie Agency Alumni and friends gathered at the Prairie Star restaurant north of Albuquerque for our annual reunion. It's hard to believe it's been 25 years since we were disbanded. Sadly, with each passing year there are less of us around. Most of those remaining are enjoying their retirements in the Sun Belt and in Mexico. As you might imagine, any gathering of vampire and zombie hunters is filled with war stories, and the stories seem to be growing as fast as our waistlines. My friend Charlie O'Connell was regaling us with a tale of how he fought off two dozen vampires in an abandoned zinc mine near Denver when I reminded him that last year it was only a dozen vampires. As part of the festivities, we auctioned off several items kindly donated to us by Baillo's Electronics. Proceeds from the auction will go to fund an FVZA memorial and museum in Washington, D.C. All in all, it was a great night. My friends may be old and arthritic, but there's no one I'd rather have by my side when going to war with the undead.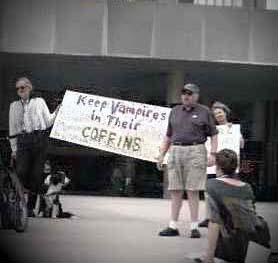 February 18th protest at SRI

February 18, 2002: Two days after the reunion, we held a protest at the Santa Rosa Institute. The turnout was excellent, what with all the old FVZA warriors in town. The most moving part of the protest came when 93-year-old Fred Barnicle, a man credited with over 2500 vampire kills, got up and spoke. Mr. Barnicle eloquently and powerfully stated why it is so crucial to proceed slowly with vampire research. The local news covered the protest, which no doubt displeased Institute leadership. From what I hear, they are still gnashing their teeth over the disappointing results of the Genuflex study. My sources tell me that while the mice injected with Genuflex initially regained their youthful vigor, they eventually turned aggressive and vampiric. Imagine if one of those mice bit a handler!

Feb. 26, 2002: My assistant Rosa moved to California last week to open a bed and breakfast, so I have gotten behind in my work. My short-term goal is to introduce more interactivity to the web site. I am currently selecting old cases from the files to present to you in the same fashion as they would have been presented to the agents. This will give you the opportunity to make decisions and face the consequences of those decisions. Please bear with me as I adjust to a life of self-sufficiency! Between this and fixing a fence in my yard, the time does fly.

-Dr. Hugo Pecos
---
© 2001 Dango Productions, Inc.