Coroner's Report

Date: January 25, 1965
Time: 9:00 am
Coroner: Casper Billodeaux

Background: The remains of a male zombie were brought to the coroner's office by New Orleans Police and an agent of the Federal Vampire and Zombie Agency on the morning of January 25. The body had been decapitated and dismembered. There are no personal effects with the remains and the decedent was not wearing any clothing. As per instructions from the agent, the results of the autopsy are to be considered classified.
Examination: The remains are those of a well developed, well nourished caucasian male in his early- to mid-twenties, approximately 74 inches in length and weighing approximately 190 pounds. The head has been separated from the body above the second cervical vertebrae. The face has several incised wounds of less than 1 inch in length.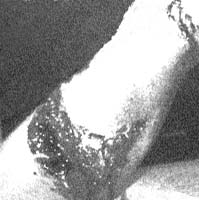 Zombie bite on the
victim's left thigh

Numerous incised wounds measuring 1 to 2 inches in length are apparent on the forearms and hands of both arms. The wounds are recent in origin. Minute shards of glass are evident in some of the lacerations.

A large wound is evident on the inside of the left thigh. The wound measures eight inches across and five inches top to bottom and is several inches deep. Margins of the wound are irregular and consistent with those of a zombie bite. Transection (a severing) of the left femoral artery is noted.

Examination of the gastric contents reveals 500 ml. of chewed, semisolid food in the stomach. Recognizable food contents are as follows: shrimp, pasta and lettuce.

Fingerprints were taken from the deceased for purposes of identification.

Opinion: Zombieism is attributable to the large bite wound on the left thigh. Death is attributable to decapitation inflicted by an FVZA agent.

Return to the Interactive Case, Part II
---
© 2002 Dango Productions, Inc.