Incident Report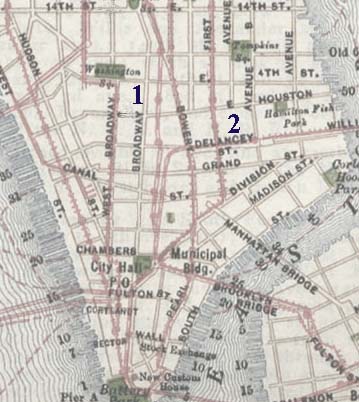 1. Location of FVZA Office
2. Area of alleged attack

Witness: Miss Sara Griffey
Address: 203 Houston Street, Room #4A
Occupation: Singer
Date of incident: November 14, 1904
Time of incident: Approximately 2:00 am
Location of incident: Delancey Street
Incident: On the night of November 13, Miss Griffey was drinking with a male friend at a tavern on Delancey Street (she does not recall the friend's name). Sometime after midnight, she left the tavern and said goodbye to her friend. She started walking east on Delancey, whereupon she met a man and struck up a conversation with him. Shortly thereafter, she thought she heard a distant scream. Hearing nothing more, she renewed her conversation. About five minutes later, a policeman approached and told Miss Griffey and the man to move along. She said goodbye to the man and began walking east on Delancey toward her residence. She passed an alleyway near Delancey Street and First Avenue and heard noises. She looked down the alleyway and saw three men holding a fourth man to the ground. One of the men had his mouth clamped over the prone man's throat. This man looked up at her. He appeared to have blood running from his mouth. Miss Griffey ran two blocks south to Grand Street, where she spotted the policeman she had encountered earlier. She told the policeman she had witnessed a vampire attack and led him back to Delancey Street. When she got to the alley, all four men were gone. A search of the area turned up nothing. The policeman then arrested her for public intoxication. She was brought to the Lower Broadway Jail for remainder of the night. Upon her release, she came directly to the FVZA office.
Action taken: Return to the Interactive Case for your choices.




---
© 2001-2014 Dango Productions, Inc.