Interactive Case #2: Motown Mayhem (Part 3)
Need to review Part I?
Part II?
Part III?

A businessman bitten by a vampire hooker. A major pimp and his stable of women missing. It sounds bad. It's about to get worse.
Date: December 17-18, 1973
Place: The Federal Vampire and Zombie Agency, Detroit Office
3:00 p.m. Night Patrol means be prepared for everything. You bring combat gear, surveillance equipment, and lots of coffee.
So what do you have? Around midnight Saturday, a Mr. William Fannon was likely bitten by a vampiric hooker somewhere downtown. Beyond that, you have little: no unusual Missing Persons patterns, no abandoned cars or trucks that might lead you to the source of the outbreak. At this point, you're only hope is the pimps.
Fortunately, you know your pimps. You may not condone what these men do, but you stay on a first-name basis with them because they're often the first to know about vampire activity in the city. That's why it is said that FVZA agents know the pimps and hookers of a city better than the Vice Squad does.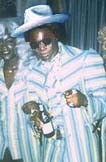 Billy Blue

3:30 p.m. As per normal protocol, you and your fellow agents go through the pimp master list and divvy up the assignments. You are given the task of tracking down and interviewing two familiar figures in the pimp establishment: Billy Blue, who controls prostitution in Detroit's notorious Cass Corridor neighborhood; and Slim Jim, who runs things in the Greektown and Rivertown neighborhoods.

4:45 p.m. It's already dark when you pull up to Billy Blue's flamboyant split level home in the Bloomfield Hills suburb of Detroit. Billy moved out here with his mother a year ago because of the high crime in the city. He may be a lawbreaking pimp, but he loves his mother. As you walk to the door, you notice that Billy's baby blue Lincoln Continental is not in the driveway. You ring the bell and knock on the door, but nobody answers. You're just about to leave when you hear a faint cry issue forth from somewhere inside the house. Instincts on fire, you bust a window and enter the house. You note the presence of shag carpet and leopard-skin wallpaper as you move toward the kitchen, where you find Billy's frail mother on the floor in great pain. She tells you she fell two days ago and has been unable to move since. After stabilizing her and calling for an ambulance, you ask her about Billy's whereabouts. "I haven't seen that boy in two weeks," she says.

5:30 p.m. Driving back to the city, you fear the worst for Billy Blue. Despite his criminal activities, Billy was a doting son who would never have let a thing like this happen to his mother were he still alive.

6:00 p.m. Even though you're supposed to interview Slim Jim, you decide to take a detour down Woodward Avenue to the Tic Tac diner, the twenty-four-hour operation where Billy Blue's girls liked to take their cigarette breaks. Inside, a waitress tells you the ladies stopped coming in about two weeks ago. "Just like that," you ask. "Just like that," she says, with a snap of her fingers. "Now are you gonna order something?"

7:00 p.m. There's no need to interview Slim Jim now. You notify the FVZA District Manager of your findings, and he says, "you know what to do."

---
OK, so you know what to do. What?
(Click the number corresponding to your choice)

Go back to the FVZA headquarters, organize a night patrol, grab some dinner and head out to Billy Blue's stomping grounds along Cass Corridor.

Go cruise the streets of Cass Corridor by yourself, looking for any unusual activity. There's no sense tying up a bunch of agents this early in the investigation.

Notify Detroit PD to put out an All Points Bulletin on Billy Blue and his Lincoln Continental. Go home, chill out and get some sleep.
Go to Part IV of the investigation.
---
© 2001-2014 Dango Productions, Inc.