Incident Report
Agent/Witness: Joe Clay

Base: Tampa, Florida

Date/Time: June 14, 2003/0253 hours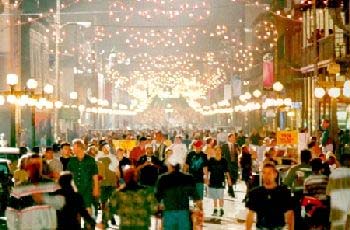 Ybor City at night

Incident: My friends and I had gone out for the night in Ybor City, Tampa's club and nightlife section. Ybor City is an old part of town with a lot of empty buildings and warehouses surrounding the small section used for tourism and clubs. Architecturally, it's not unlike New Orleans, with its two-story overhanging balconies and brick roads. We parked in a vacant lot about 6 or 7 blocks from the club so we wouldn't have to pay the garage fees, and arrived at the club at approximately midnight. A few hours later we were ready to leave, so we headed out and made our way back to the car, and this is when I noticed someone following us. It was only one person, and while it's not totally unusual to see someone walking alone at that hour, it was a bit strange. I was the only one to notice it at first, but I didn't say anything because I really didn't think too much of it at the time. After we had gone nearly 3 blocks, I nonchalantly looked back to see if the person was still following us, and this is when I went from somewhat nervous to really concerned. I could see now that the person was about 10 feet closer to us then he had been. He was an older looking man around 6' 2'' who looked to be in good shape. He was close enough now so that when I had turned around to see if he was still there I saw that his eyes were deadlocked on mine. At this point my other friends noticed by my quick jerk of the head forward that something wasn't right. Each of them turned around and noticed the man, and an uneasy silence came over us. None of us were sure whether to continue walking to the car as if nothing was wrong or attempt to sprint to it in the event that this person was going to mug us. The thought that it could possibly have been a vampire eluded me at the time. After we crossed the 5th block on our way to the lot we started whispering amongst ourselves and decided to run to the car. We first started walking a bit faster and I was almost sure I heard two sets of feet behind us doing the same. Then we started running and I figured we were losing the guy because little by little, I heard the sound of the feet behind us diminish. We approached the lot and didn't stop running till we were at the car. I turned around again as we were about to open the doors and saw that not 1 but 2 people were running behind us: the same man from before and a shorter, stockier man. By the two dim overhead lights that illuminated the street and part of the lot, I noticed that the taller one had an obvious smile on his face while the shorter one looked angry. We were scrambling with the door handles and got inside really fast, but right before we sped out of the lot we all distinctly heard the taller man yell what sounded like a sarcastic: "Come back, we were hungry!"

As we were speeding away I looked back and saw the taller man laughing to himself while the shorter man still looked angry and was yelling something at the taller man. I continued to watch and they started to walk away; however, I thought my eyes had deceived me because as quick as they turned around they were gone. I didn't think it was a vampire at first, but a friend of mine who is a self proclaimed "paranormal expert" said it was very likely considering the account all of us gave and the area where the event occurred. He said with the architecture of Ybor and the club district so close, it was a perfect habitat for vampires. I asked him why, if these were vampires, they didn't do anything to us. He answered that it was a matter of sheer numbers. There had been 4 of us but only 2 of them, and while they probably would have had a pretty good chance, it wasn't a sure bet, and that's what they look for in a kill. He said in all likelihood they were toying with us.



---
© 2003 Dango Productions, Inc.