Incident Report
Witness: Aaren J

Location: Manchester, England

Date/Time: March 17, 2003/22:56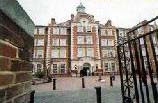 Imperial College
of Medicine

Incident: Police have discovered another body with the emblem of the Broken Cross branded into his forehead. The deceased was a white male, aged 20, and had recently dropped out of the Imperial College School for Medicine.

I believe that the Order is operating in England and that the number of attacks is likely to increase. I advise all agents operating in the British Isles to be on the lookout for incidents similar to this.

Interestingly, a member of the Imperial College had linked the deceased to Dr Edward Westhead, a member of the Board of Directors at the Santa Rosa Institute. Could the Institute be related to the Order?